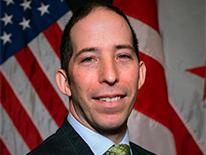 Prior to assuming the role of Chief Risk Officer in June of 2015, Jed Ross, Esq. rejoined the District of Columbia Government in January and began work with the DC Department of Human Resources as a Senior Advisor. While with the Department of Human Resources, Mr. Ross advised and assisted the Mayor's Office of Talent and Appointments with its recruitment and onboarding of Mayoral Appointees.
Mr. Ross previously represented private, nonprofit and public entities in a wide range of practice areas in connection with labor, employment, administrative, legislative, policy, and real estate law while at Goldblatt Martin Pozen LLP (GMP). His clients' industries included real estate, labor, trade associations, nonprofit organizations and more. Finally, Mr. Ross served as the Deputy General Counsel for We Are Washington DC during his tenure with GMP.
Prior to joining GMP, Mr. Ross served as the Acting Deputy Director of Operations and Human Resource Director for the District of Columbia's Department of Consumer and Regulatory Affairs (DCRA). While at the DCRA, he also served as the Chairman of the District of Columbia's Board of Condemnation of Insanitary Buildings.

Before his work at the DCRA, Mr. Ross worked for the District of Columbia's Office of the Attorney General (OAG) within the Commercial Division focusing on District of Columbia real estate matters. While at the OAG, he worked extensively with agencies throughout the District government, and he has a vast understanding of the regulatory and administrative processes within which businesses and individuals must operate.
Mr. Ross earned his J.D. from the Syracuse University College of Law, and a B.S. in Marketing and Distribution Management from the Indiana University's Kelly School of Business. He is admitted to practice law in both Maryland and Washington, DC.