Returning Employees Back to Work in a Safe and Productive Environment
The Return to Work Program is designed to enhance the life and well-being of the District government's most valued resource — its employees. It is part of the Public Sector Workers' Compensation Program that covers valid claims of injured workers. The primary goal of the Return to Work Program is to return eligible employees to the work force at the earliest medically allowable date and in a safe and productive environment. The Return to Work Program promotes rehabilitation and enhances the recovery process of employees experiencing an injury.
---
ORM's 'Job Club'
Coming Soon!
What is the Job Club?
The Job Club provides those who are unemployed and actively seeking employment with a place to meet other job seekers and share job searching tips, support and experiences.
What takes place at the Job Club meetings?
Some of the topics for the Job Club meetings will include: Professional Networking, Job Search Techniques, Resume Discussion, Interview (what works, what doesn't), Health & Fitness Resources, Social Networking, Budgeting, Life Beyond Job Search and MORE!
What are the benefits?
Diverse Group of Participants
Overcome Isolation
Promotes Success Through Peer Support
How do I join?
Joining is easy! If you're currently participating in the DC Public Sector Workers' Compensation Program you will automatically become a member of the job club! The Return to Work Officer will contact participants with additional information.
What if I'm not a DC Government employee and would like to participate?
The job club welcomes community businesses and professionals as their 'featured guests' to join the job club meetings and share their expertise in specific topics related to employees returning to work. For additional information, please contact the Return to Work Program via email: [email protected]. Please include JOB CLUB in the subject line.
The great thing about the Job Club is that participants help develop the program to meet their needs! For most unemployed job seekers, finding a job is a very stressful and emotional process…especially after a work related injury. Job seekers are great lead resources for each other because they are the ones browsing job listings daily!
---
Seniors Returning to the Workplace
Do generational differences impact the workplace? YES! They can lead to positive changes which can benefit all employees. The most important aspect of managing generational differences is to regard each employee as an individual with a valuable contribution to the workplace. Taking the time to understand their perspective will make managing less of a challenge.
Here are a few tips in managing Seniors in the workplace:
Seniors like the personal touch – a handwritten note,
Less email and more personal interaction,
Socialization is important to them.
Seniors bring value to the workplace with their experience and knowledge, and are hardworking and dependable. Baby Boomers also like a personal approach from managers ("I really need you to do this for me"). They enjoy public recognition, and appreciate rewards for their hard work and the long hours they put in. If you are working with Boomers, get consensus – they may be offended if you don't involve them.
---
Getting Agencies & Employees Onboard!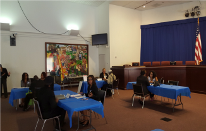 The Return to Work (RTW) Program is good for business and good for employees! Within the first few months of launching the Return to Work Program in 2012, ORM has been diligently collaborating with agencies and employees to get everyone onboard.
September 9, 2015: ORM hosted the 'RTW Orientation for Public Sector Workers' Compensation Program Participants'. The agenda for the orientation included an introduction to the 'Employment Resource Community'. The Employment Resource Community is an employee development & training initiative in collaboration with DOES, DCHR and DCPL to equip returning employees with the needed skills for today's workforce. The participants received steps in getting started and are currently actively involved in utilizing the available services!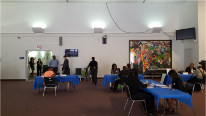 Sonita Lal from DOES shared light on the collaboration with DOES and the resources available through DOES.
September 28, 2015: The first annual Return to Work Job Fair was held on September 28, 2015. Participants were interviewed by District government agencies and employers outside of the District. ORM received positive feedback regarding the job fair and several participants have received contact regarding a second interview.
---
What's New: Employment Resource Community
The RTW Program launched the Employment Resource Community for PSWCP participants. The community will connect with District government agencies & other external entities to offer employee development resources for employees returning to work. This is an effort to return employees back to work in a productive and safe work environment! Stay connected for more information coming soon!
---
Upcoming Events
Return to Work Orientation
March 10, 2016
11 am - 1 pm
441 4th Street, NW
Room 1117
Washington, DC 20001
Return to Work Job Fair
April 8, 2016
10:30 am - 1:30 pm
441 4th Street, NW
South Lobby, Old Council Chambers
Washington, DC 20001
---
Employment Resources
Diversity Job Fair
Tuesday, October 20, 2015
10 am - 1 pm
Embassy Suites Crystal City
1300 Jefferson Davis Highway
Arlington, VA 22202
Tyson Job Expo
October 27, 2015
1 pm
Sheraton Tysons
8661 Leesburg Pike
Tysons, VA 22182
Resume Writing and Job Interview Techniques (Tuesdays, 10 am to 12 pm)
Writing Ranking Factors and Completing the Application Process (Thursdays, 10 am to 12 pm)
Individuals interested in attending these classes should register online at DCHR's website.
DOES Senior Citizens' Resources
Jobs, Education
Workplace Skills Training & More!
District of Columbia Public Library
Resumes
Interview preparation
Training & more!
Employment
Skills & experience
Paid training & more!
Employment
Healthcare
Education & more!
Resumes
Interview preparation
Traning & more!
USA.gov - Senior Citizens' Resources
Jobs, education
Housing, health
Consumer protection & more!
Manager Resources
Employee Resources
Return to Work Employee Satisfaction Survey *Coming soon!